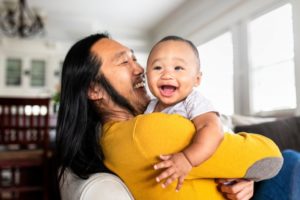 Has your little one just been diagnosed with a lip or tongue-tie and needs a frenectomy? If so, there's no need to let your parental worry kick-in just yet. In fact, thanks to modern technology, treating this issue is more pain-free, streamlined, and simple than ever. Many children and infants are able to make a quick recovery, all while enjoying full function of their smile thanks to the successful procedure. Read on to learn more about what recovery from a frenectomy will look like for your little one.
Recovering from a Frenectomy
The recovery period for a frenectomy can depend on a variety of factors; however, on average, it takes between three and five days to heal, and from start-to-finish, three to six weeks. Laser frenectomies typically offer the fastest recovery periods and reduce risk of complications because they cauterize the area on-contact. Within the first week of healing, a white patch will form over the treated area, but your child may experience soreness, discomfort, and occasional bleeding. Over the next two weeks, the healing patch will begin to look smaller before completely going away.
At-Home Aftercare for Frenectomies
Before you and your child leave the office after the procedure, your provider will give you with some aftercare tips to help your little one feel better as well as reduce complications and bleeding. Some of these instructions may include:
Give your child any prescribed medications as directed.
Complete any oral stretches on your child or infant while they're recovering.
Help your child avoid rigorous sucking or spitting 48 hours following the procedure.
If you ever run into a situation that has you concerned about your child's healing or health, never hesitate to contact the provider. They'll be able to put your mind at rest if it's a typical side-effect or guide you to the proper medical care if it's not.
Follow-Up Frenectomy Appointments
About a week after the frenectomy, your provider will have you and your child return for a follow-up appointment to make sure that they're healing as expected. They'll ask you about any effects they've been experiencing as a result of the procedure and provide you with feedback to help minimize them. This appointment will be relatively quick and is really just to make sure that your little one isn't experiencing any complications.
As a parent, worrying about your little one is second nature, but in this case, it may be best to leave the concern to the professionals! They'll be with you along every step of the recovery process so you can trust that your child has the support they need to make a smooth and easy recovery.
About the Author
Dr. Bindi Vibhakar is a passionate board-certified pediatric dentist as well as an active member of the American Academy of Pediatric Dentistry. She enjoys being able to help children build an interest in their smiles and connecting with parents to build strong relationships with families that visit her. She also uses the latest dental technology to conduct frenectomies, like a soft tissue laser, to make the process as quick and pain-free as possible. For questions or to schedule a consultation to learn more about this procedure, visit Chicago Tongue-Tie Center's website or call 312-248-2455.